Fund for Museum Development between 2009-2017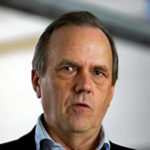 The fund was created to promote museum development and to commemorate Hans Manneby (1946-2008), former chair of Swedish ICOM, the International Council of Museum. His legacy can be summarized as "An empiricist's search for the comprehensive view". The fund was active between 2009-2017.
During the years, many have been nominated and nine prize winners have been chosen. Persons who has inspired or been inspired by international and national collaboration. Persons working in or with the museum sector from all around the world.
Criteria for the prize winners
The purpose of the prize was to celebrate efforts in innovative organizational and structural areas, forms of collaboration, methods of communication and non-conventional thinking.
The prize winners are persons who have seeked to root museums in contemporary society by operating in close contacts with the world around with a keen awareness of people's needs, persons who have inspired, gathered and disseminated experiences from international and national collaboration, persons who have maintained a broad perspective on learning and develop the museums' interdisciplinary methodology, persons who have showed flexibility and quality in developing museum operations and contributed to the development of staff and activities with a sense of commitment and enthusiasm, demonstrate richness of ideas and a non-conventional approach.
THE PRIZE WINNERS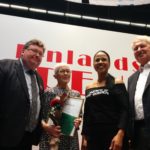 Ildikó Lehtinen, Finland, 2017
for her dedicated protection of threatened linguistic and cultural heritage among Finno-Ugrian minorities. For crossing geographical and mental boarders, initiating networks  between minority groups far apart. For exploring modern media to give access to exhibitions, knowledge and education online especially  among young people.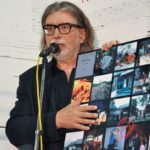 Janusz Byszewski, Poland, 2016
for his interdisciplinary and unconventional work to establish a role for museums and art for local community activities where issues on today´s society are raised with the living in the area, his innovative workshops and seminars to share experiences with museum professionals and educators in Poland and elsewhere and social work in open public spaces, museums and galleries giving young people and disadvantage groups possibilities to articulate their thoughts and dreams by working together with artists.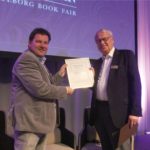 Roeland Paardekoper, the Netherlands, 2015 
for his dedicated work and significant contribution in professionalizing the role of open-air museums when it comes to financial management, interpretation and public relation. His persistent efforts to establish permanent and meaningful contacts between open-air museums has created a network of European partners who benefit from his strong conviction that the past has a value for the present through supporting dialogue between visitors, interpreters of tangible and intangible heritage, and skilled craftsmanship performing prehistoric life, methods and skills.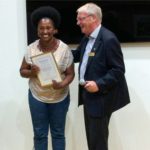 Giane Vargas Escobar, Brazil,  2014
for her commitment and contribution to the strengthening of Afro-Brazilian identity and culture in Brazilian society by highlighting its rich cultural diversity, the memory of social struggles before and since the abolition of slavery, and the role of women in the transmission of collective memory creativity and managerial skills in developing "clubes negros", in promoting such networks and spreading the principles and practices of community museology in Brazil.
Suad Amiry, , Riwaq Centre for Architectural Conservation, Ramallah, Palestine, 2013
for her fervent commitment to safeguard endangered built heritage in Palestine, her creative force to include a broad spectrum of Palestinian society and extraordinary skills to share her visions and inspire others.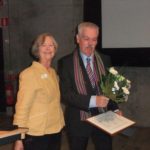 Stehen Inglis, Aanischaaukamikw Cree Cultural Institute, Oujé-Bougoumou,  Canada, 2012
for his work, together with the Cree people, in making a dream come true for creating a centre in Oujé-Bougoumou, to capture, share and celebrate the James Bay Cree culture for bridging the traditional with the contemporary, youth with elders, the local with the global for linking knowledge, pride and respect with great beauty.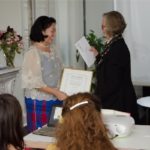 Elizabeth Cordova-LaO, Museo Sang Bata Sa Negros, the Philippines, 2011
for the way she with imaginative, artistic and multidisciplinary knowledge stimulates children's self-confidence and engagement to safeguard ecological and cultural values within the local community.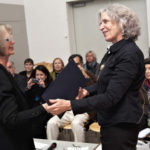 Teresa Morales, Unión de los museos comunitarios, Oaxaca, Mexico, 2010
for her persistent and creative work with community museums in Oaxaca, Mexico, for creating a continental movement of community museums and for training facilitadores to help communities invent museum solutions to benefit local Development.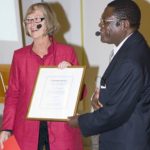 Paul Msemwa, Dar es Salaam, Tanzania, 2009
for his innovative work at museums in Tanzania, persistent search for growth through engagement in communities, locally and internationally, and his generous contribution to international museum networking.
Board of the Foundation

The Foundation has been governed and administered by a board consisting of five members: Bertil Falck, Gothenburg, Sweden (president of the Foundation), Elisabet Olofsson, Stockholm, Sweden (Secretary of the Board), Anita Modin, Fiskebäckskil, Sweden (board member), Inkyung Chang, Iron Museum, South Korea (board member) and Elina Nygård, Ájtte, Svenskt Fjäll- och Samemuseum, Jokkmokk, Sweden (board member).